Salon Spa POS
Spa and Salon Point of Sales Systems
The team at MPS will work with you to understand your business and find you a solution with features that will allow you to efficiently manage your business while focusing on what's important: keeping your customers satisfied and spending. Our salon point of sales systems, both fixed and mobile, are the perfect tools to help you keep your business running smoothly while taking great care of your clients.
---
A revolutionary POS system for Salon & Spa establishments that will change the way you work
This best-in-class package combines robust software with powerful hardware to deliver an unparalleled solution in the form of a spa or salon point of sale system that is second-to-none. Powerful features for Salons & Spas that help make running your business easier and more profitable are available through Merchant Payment Services.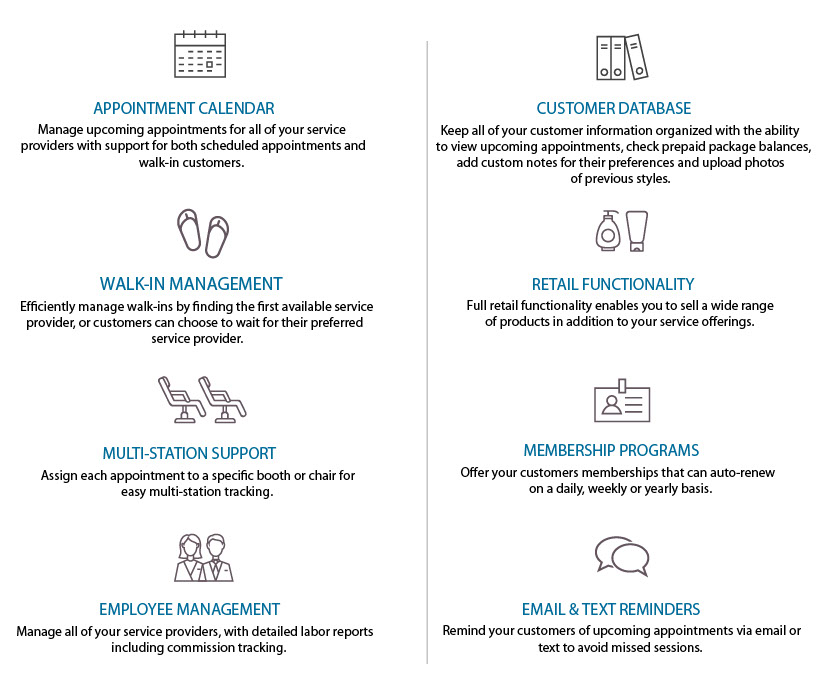 On-site Installation
Experienced and certified installation professionals ensure you are up and running in no time.
Comprehensive Training
We provide preliminary on-site training and extensive remote training to make sure you are proficient with your POS system.
Unparalleled Support
In-house customer service and technical support are available 24/7; remote support allows the Harbortouch support team to access your system to repair any software issues immediately.
MPS is serious about delivering extraordinary service and doing business with impeccable integrity in order to build customer confidence to the highest possible level. In recognition of the way in which MPS conducts business, we are proud to be recognized by the Better Business Bureau as a 2008, 2009, 2010 Eclipse Integrity Award Finalist and 2011 Winner.